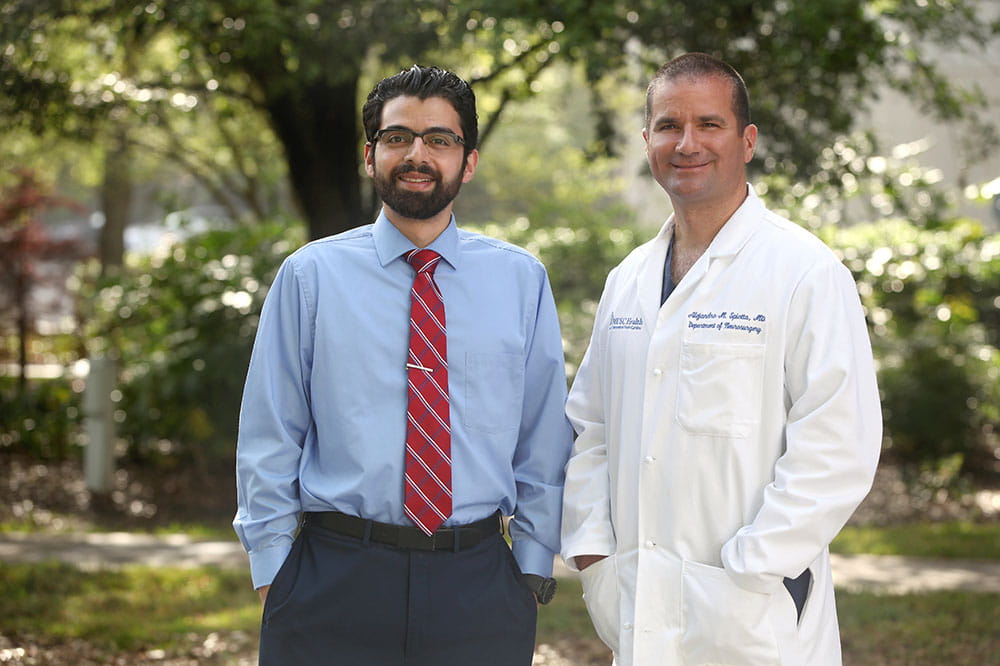 A clinician-scientist and an neuroimaging researcher are the co–recipients of the College of Graduate Studies' 2019 Distinguished Graduate of the Year Award. Ali Alawieh, a candidate in the Medical Scientist Training Program, and Logan Dowdle, a Ph.D. research candidate, both share a love for the neurosciences and have a deeper understanding of the brain through their research.
Geographically, the two couldn't be from more opposite paths. Dowdle is from the small town of Marion, North Carolina, at the edge of the Blue Ridge Mountains. Alawieh traveled more than 6,200 miles from his hometown in Beirut, Lebanon, to live and study in the Lowcountry.
The co-recipients of this award will each receive $500 and an invitation to return to campus on Aug. 20 to present at the annual Liz Chesterman Memorial Lecture to incoming doctoral students.
Ali Alawieh
As a child growing up in Beirut, Lebanon, Ali Alawieh was gifted in math and science. Born into a family of engineers, he loved math so much he set up an area in the family home where he could focus on programming projects for himself and his friends. By the time he was entering college, he was still conflicted about choosing his major field of study.
"There's a lot of great things that I knew I could do in engineering, but I was seeking something that would provide the greatest impact utilizing my skills and knowledge. I then thought that medicine and health care could be that bridge that could align my gift and passion for math, programming and biology," Alawieh said.
He attended American University in Beirut (AUB) where he excelled as a biology major. He was able to conduct undergraduate work in engineering, biomedical research and neurosciences.  He was also interested in existential philosophy and led a student club that regularly held contemporary and philosophical discussions about metaphysics, philosophy of the mind and meta-ethics and their global impact on society and science. This experience helped guide him toward medicine with a strong motive.
"I learned how to get reward from motive rather than outcome, and discover what brings peace to my personal drive," said Alawieh. "It helped me accomplish what I wanted and helped me set my goals. It was my motivation to know that nothing was impossible."
Alawieh learned he could continue his studies at MUSC through the Medical Scientist Training Program in the College of Graduate Studies, a competitive academic partnership that was established 15 years ago between MUSC and AUB to develop the next generation of physician scientists.
In his first two years at AUB, Alawieh spent time familiarizing himself with various research fields. By the end of his second year and prior to starting his lab rotations at MUSC, he was interested in neuroscience, specifically traumatic brain injury and stroke.
His source of inspiration, he explained, was personal as several family members had either died or live with the effects of stroke. In pursuing answers, Alawieh's asked his own questions: How does the damage to the brain occur after stroke or traumatic brain injury (TBI) and can it be reversed? Can we expand the therapeutic options for TBI or stroke patients especially those not eligible for current treatments?
In a fortuitous way, Alawieh found himself working with Stephen Tomlinson, Ph.D., a professor in the Department of Microbiology and Immunology. Tomlinson is an immunologist conducting basic research in transplant and tumor studies using complement biology. Alawieh was able to blend his research interests of investigating the biomarkers of stroke in mice, neuronal plasticity and the inflammatory response with Tomlinson's work developing targeted complement inhibitors that would enhance stroke recovery. Together, they were able to create and develop innovative new studies and translational research in stroke care. Alawieh's work with his mentor on neuroprotection and neuroinflammation landed them with a translational research feature in the Science Translational Medicine, a publication of the American Association for the Advancement for Science, in May 2018. Today, Tomlinson's lab has more than $2.5 million in total funding for stroke and TBI research.
"I could not have imagined a better experience," said Alawieh. "The progress we made in the lab was really rewarding. I was able to work on lab projects and conduct my work in neuroprotection and explore ways to improve a patient's recovery after stroke. The years between 2013 to 2015 has been considered 'prime time' for stroke–related research at MUSC and nationally due to the introduction of stroke thrombectomy procedures. It was especially exciting for me to be able to tailor my research around the forefront of this growth and see the research and clinical teams advance their knowledge and studies in stroke care while also contributing to this growth."
To complement his lab research successes, Alawieh continued to explore stroke for his clinical/translational experience by studying novel procedures used to treat stroke patients. He teamed up with neurosurgeon Alejandro Spiotta, M.D., director of MUSC's Division of Neuroendovascular Surgery in the Department of Neurosurgery, to study stroke intervention procedures. Through a series of projects, Alawieh studied the different factors that affect the recovery of patients after stroke. In a major study, Alawieh concluded, when it comes to stroke, one constant that seems to affect all stroke patients is time.
In studying ischemic stroke intervention therapies and surgical response when treating a stroke, Alawieh showed that longer delay to receiving thrombectomy and also longer duration of the procedure contribute to less favorable patient recovery. He described a golden one hour for stroke treatment defined as the time it takes to open a brain vessel. Alawieh concluded that a procedure time cut–off for thrombectomies should be integrated into the current standard of care for stroke. This work was a product of a multicenter collaboration that Alawieh is coordinating under the guidance of Spiotta. The ongoing collaboration, named the Stroke Thrombectomy and Aneurysm Registry (STAR) connects more than 20 stroke centers in the U.S. and internationally, allowing them to monitor and share data about stoke patient outcomes.
Alawieh and Spiotta's report was featured in April in the Journal of the American College of Cardiology.
"Ali has been great to work with," said Spiotta. "He was able to define the projects he wanted to accomplish working with me in the stroke clinic. This was a warm up to a flurry of dozens of other new and exciting projects and ideas. There's nothing I believe he can't handle."
An outlier in his field
Looking back, Alawieh's mentors couldn't be more pleased with their student.
Tomlinson is quick to praise his mentee for his strong neuroscience knowledge, intellect, dedication and ambitious drive.
"Working with Ali has been nothing short of inspirational," said Tomlinson. "He's helped me discover and connect concepts in the areas of brain injury research and neurosciences that I had never considered before. What evolved for us was a mutual respect and understanding to explore research interests and possibilities in the fields of neurosciences and immunology."
Spiotta agrees.
"Ali is that once-in-a-lifetime student that one rarely comes across. He's extremely bright, grasps concepts quickly in clinical work, is driven, talented and razor focused. He's an outlier in his field," Spiotta said.
In addition to his research and clinical success, Alawieh has won numerous awards and accolades for presenting his research locally — at the MUSC Perry V. Halushka Annual Research Day — and nationally at several professional science organizations meetings and competitions.
In his six years at MUSC, Alawieh has been published in more than 40 scientific publications, contributed to 16 abstracts and conducted more than 20 poster presentations. He's received six awards for funded research and holds two provisional patents on interventions.
In July, he will begin a seven-year neurological surgery residency in the Department of Neurosurgery at Emory University School of Medicine. In addition to completing a challenging comprehensive training program, Alawieh will continue to expand his clinical and research through collaborative work and mentoring. Emory's neurosurgery program is among a group of elite residency programs in the country to be awarded a Research Education (R25) Grant from the National Institute of Neurological Disorders and Stroke to develop the next generation clinician–investigators in neurosurgery and neuroscience
Alawieh plans to continue his research collaborations with Tomlinson and Spiotta through ongoing research projects on neuroinflammation and response to stroke reperfusion therapy. He hopes his work will contribute to strengthening MUSC in the areas of neuroprotection and stroke thrombectomy and lead to MUSC–based trials on novel stroke treatments.
For the May 18 commencement ceremony, Alawieh will not be the only family member celebrating big accomplishments. His wife, Zahraa Sabra, who already holds a master's degree in electrical and computer engineering from AUB, will receive her doctorate with an emphasis on computational neuroscience also from the College of Graduate Studies.
Suggest a Story
Have an idea for MUSC Catalyst News? Contact our editorial team and let us know.
About the Author