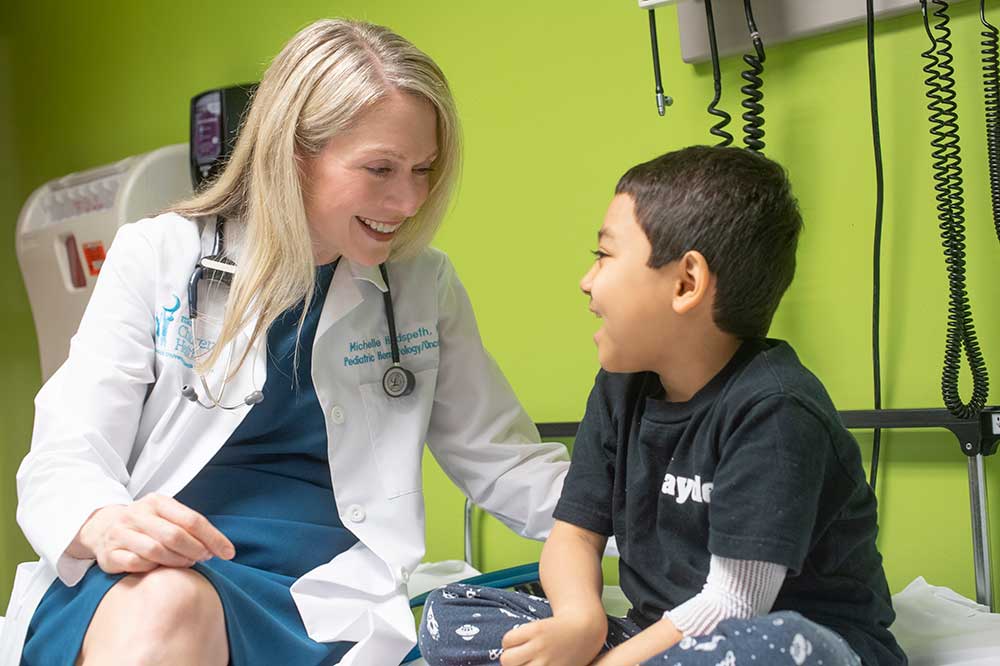 Following in a tradition of excellence set by her predecessor, Michelle Hudspeth, M.D., takes the reins as the medical director of the Blood & Marrow Transplant Program (BMT) Transplant Program at Hollings Cancer Center at the Medical University of South Carolina.
Hudspeth has served as medical director of the pediatric oncology program since 2007 and director of quality for the adult and pediatric BMT program since 2008. In this new role, she will direct both the adult and pediatric BMT programs.
David Mahvi, M.D., chief of the Oncology Integrated Center of Clinical Excellence who oversees clinical operations at Hollings Cancer Center, said the BMT program has excelled under the leadership of Robert Stuart, M.D. "Words cannot express my gratitude to Rob Stuart," he said. "Dr. Stuart has been and remains a pioneer in the field of malignant hematology."
Hudspeth will be able to take the program and continue its upward trajectory. "After an extensive national search, we discovered that the leader we coveted was already here. Michelle Hudspeth has been the rare cross-departmental champion for quality in BMT and was instrumental in our recent Foundation for the FACT accreditation," Mahvi said. The Foundation for the Accreditation of Cellular Therapy (FACT) accreditation is the threshold for excellence in cellular therapy including bone marrow or cord blood transplant and is based upon compliance with the most comprehensive standards in the field.
"She is exactly the right person to lead the growth and continued innovation of our program. I cannot tell you how excited I am to work to help implement her vision for BMT."  
Hudspeth says it's a role she's eager to assume. In this Q&A, she explores the opportunities she sees as treatments for blood cancers advance, giving patients more options.
What draws you to this new role?
As a native South Carolinian and a 1999 graduate of the College of Medicine, I am incredibly excited to be able to build on our team's strong tradition of excellence and to further transform the way we deliver care to the patients of our state and beyond. We are in an amazing time of unparalleled growth where our field is exploding with options such as gene therapy and immunotherapy, and we're in an era where the success of haploidentical transplants has made a donor option available for virtually every patient. We have a tremendous group of young faculty in the adult BMT program, and I'm excited to help them further develop and excel.
What's your experience in this field?
I was bitten by the transplant bug during pediatric residency at Johns Hopkins. I was fascinated by the immunology, the necessity to think creatively and the need to push the envelope for our patients. The intricacies of the science combined with the intensity of the clinical course and interpersonal relationships were the right fit for me. I'm forever grateful for the excellent training during residency and fellowship at Johns Hopkins Hospital and the National Cancer Institute and the mentorship from physicians, nurses and multidisciplinary staff along the way. I started my faculty career with the pediatric oncology division at Johns Hopkins in 2006, and then I joined MUSC in 2007 with the goal to build the pediatric blood and marrow transplantation program. I subsequently also became the BMT quality director for the combined adult and pediatric program in 2008.
The BMT program has achieved many recognitions. What makes the program so strong?
Teamwork and communication. BMT is a fast-paced arena with a narrow therapeutic index. Planning a transplant is a bit like planning a wedding for a million guests in a few weeks' time. We must be able to pivot quickly from Plan A down to Plan Z for our patients. We have worked very hard to create a culture of safety where every team member is empowered to speak up at any point along the way. Nothing makes me happier than to hear a team member ask "Why….?"
We have developed wonderful partnerships across the institution with many departments and units. Certainly, I simply can't say enough great things about the dedication of our BMT nurse coordinators under the leadership of Cindy Kramer, Program Director Blood & Marrow Transplant Program / Oncology Navigation Program.
What's your vision for the future of how we will continue to improve care?
We will continue to improve care by transforming patient care delivery and integrating advances in cellular, gene and immune therapies into both the disease-specific and supportive care of our patients.
The adult outpatient autologous BMT program and the adult and pediatric CAR-T immunotherapy programs were successfully launched this year. We look forward to adding the adult allogeneic BMT outpatient program and growing the CAR-T clinical trial portfolio this year. The move this fall into the new Shawn Jenkins Children's Hospital creates an unparalleled physical space to allow for innovation around pediatric BMT care delivery models. Dr. Jennifer Jaroscak is expanding our curative options for sickle cell disease, including gene therapy and a wide array of BMT clinical trials.
We want to further integrate cellular therapy resources and research across the institution and begin exploring new frontiers, such as combined bone marrow and solid organ transplantation.
Our future success and vision are directly dependent on the combined strategic growth of our partner services across the institution such as apheresis, cellular processing and pathology.
You're known for your passionate care. What drives that purpose?
There is unmistakable joy to see your patient cured and thriving after transplant. On the other side, however, there really are not words to describe the depth of pain in the soul of a parent of a dying child. We must be extremely focused every single day on the minute treatment details and latest breakthroughs for our patients. The "what" we do hopefully allows the patient to be cured, but it is the "how" we do it that families remember. 
When I first came here in 2007, the unofficial slogan of the pediatric BMT program quickly became "make it happen."  Our responsibility is to cut through barriers and obstacles and advocate for those who need us the most. All we ever need to ask is, "How would I like myself or my family member to be cared for?" This one question should drive everything that we do.
About the Author
Dawn Brazell
Hollings Cancer Center
Keywords: Cancer