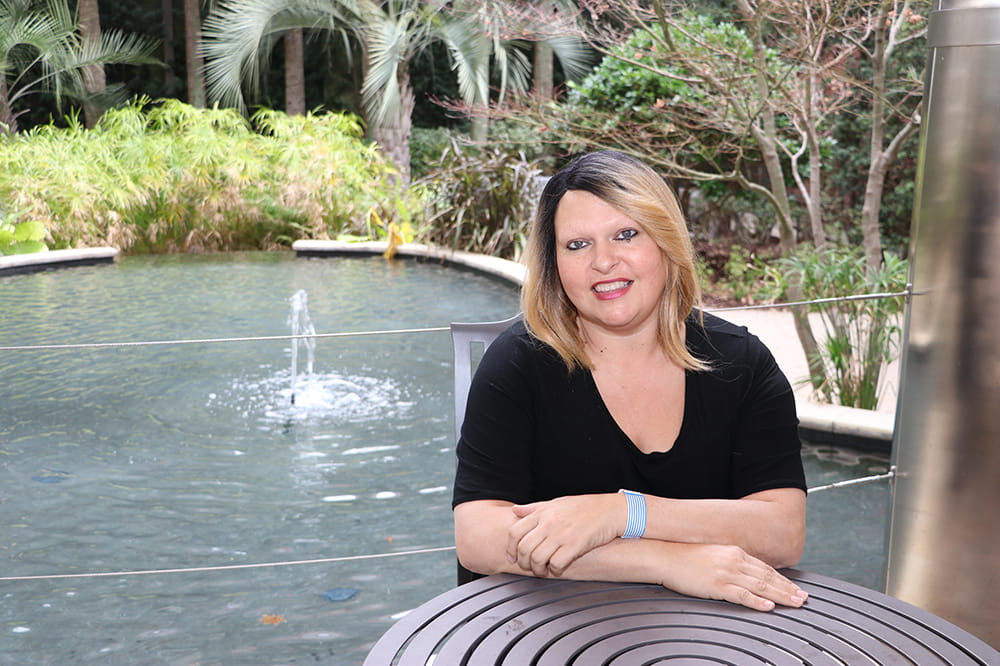 Tammy Grainger saw her life flash in front of her eyes in 2017 when she went to the doctor and was told she had only two weeks to live.
Grainger and her mother, Betty Holmes – also of Loris, South Carolina – thought she might be having problems with perimenopause when she began experiencing bleeding that wouldn't stop. She went to a local hospital to be checked out because she was feeling faint.
"They gave me a pint of blood and sent me home. They said there was nothing wrong."
She went to another doctor the next day because she still was afraid of passing out. This doctor scheduled a D&C – a procedure known as a dilation and curettage that's done to diagnose and treat certain uterine conditions. "She put me to sleep and woke me right back up. She saw the cancer," she recalls. "She told me I had two weeks to live."
Grainger couldn't wrap her mind around the diagnosis. A friend suggested she go to Hollings Cancer Center at the Medical University of South Carolina for a second opinion. She consulted with Whitney Graybill, M.D., who specializes in gynecologic oncology at MUSC Health.
She was diagnosed with cervical cancer, and scans revealed it also had spread to her lymph nodes, abdomen and a spot on her lungs. Grainger underwent 25 radiation treatments and five rounds of chemotherapy, including brachytherapy, a procedure that involves placing radioactive materials inside the body to treat cancer. She went into remission in September 2017.
The cancer returned last year, and Grainger, 50, just finished six months of chemotherapy and is taking a break before her next round starts. Her mission is not to give up. She loves her job as a caretaker for a "lively" 89-year-old who keeps her hopping, she said. She almost has her house paid for and has finished remodeling it. "I just try to make things better – that's the way I am."
Part of that involves spreading the news, especially during January's Cervical Cancer Awareness month, about the importance of getting regular screenings to catch cervical cancer earlier, when it's easier to treat, and about the role of the human papillomavirus, or HPV, in causing several cancers. She has an HPV-related cervical cancer.
Every year in the United States, human papillomavirus (HPV) causes more than 30,000 cases of cancer in men and women, and the HPV vaccine can prevent about 28,000 of these cases from ever occurring. In hopes of increasing the HPV vaccination rate, Hollings Cancer Center is doing a three-year, $700,000 initiative to raise awareness.
Grainger, for one, is glad to see it. She said she knows now that the HPV vaccine can prevent most cases of cervical cancer, but that wasn't available when she was a teen. "When I learned that I had HPV it floored me. I had never heard anything about HPV ever," she said. "All I can say to parents is to please get your kids vaccinated because you don't want them to go through this."
Cervical cancer symptoms to monitor
Graybill agrees that it's important to get the word out about the HPV vaccination, particularly since most sexually active people will get HPV at some point in their lives, even though most will never know it.
"The HPV vaccine targets the HPV strains of the virus that most commonly cause cervical cancer and can cause some cancers of the vulva, vagina, anus and oropharynx," Graybill said. "The Centers for Disease Control and Prevention estimates that the vaccine could have prevented 92% of cases caused by HPV. The bottom line is the vaccine is safe and can prevent cancer."
It's also important for women to get regular pap screens and to tune into any unusual symptoms. Graybill said she's thankful for patients such at Grainger who are willing to share their stories.
"Everyone is vulnerable to cancer, and it's important for women to inform and educate other women. It raises awareness about the disease and is empowering. It hopefully will motivate others to get the HPV vaccine and to have their children vaccinated."
Each year, about 13,800 new cases of cervical cancer are diagnosed. South Carolina ranks 19th in the nation for cervical cancer incidence (2010-2014) and 14th in the nation for cervical cancer mortality. Health disparities play a role. Graybill said the incidence and mortality of cervical cancer is higher among black women, who are dying of cervical cancer at almost twice the rate of white women.
Cervical cancer tends to occur in midlife and is most frequently diagnosed in women between the ages of 35 and 44. Many older women do not realize that the risk of developing it remains present as they age. More than 20% of cases of cervical cancer are found in women over 65.
Symptoms to be aware of include abnormal vaginal bleeding, such as after intercourse or between menstrual periods; increased vaginal discharge; pain during sexual intercourse; and unexplained persistent pelvic pain.
Risk factors for cervical cancer include early sexual activity, multiple sexual partners, which increases the risk of HPV; the presence of other sexually transmitted diseases; a weakened immune system; and smoking.
Graybill said it's also important for women to listen to their bodies and to check out any concerning symptoms they are having and not assume it's just related to menopause. "It's important for women to listen to their bodies and to advocate for themselves."
Planning for a better future
Grainger is now a firm believer in advocacy and has added it to her very packed to-do list. She said she's a hard worker and has done three jobs in her past to get to where she is now. A caretaker by nature, she has had to learn to let people care for her. She's lucky in how supportive her mother has been. During one of her rounds of treatment, she had to stay in the Hope Lodge for four months. Her mom never left her side. "She's been wonderful to me," she said. "She's been there to pick me up."
Finding good support is important as is focusing on what makes you happy, she said.
When she lost her hair, it was hard on her. She now has a collection of more than a dozen wigs because she can't stand having a bald head, she said. She went to the Bold & Beautiful Wigs for Cancer shop in Little River, where cancer patients can get their first wig for free, and she got hooked on the hairstyles. Grainger, who will have to have more chemotherapy and may try immunotherapy, said feeling pretty makes her feel better. She gets up each morning and decides what wig she is in the mood for.
What also makes her happy is getting into her rigged-up truck, complete with 28 speakers and lights on the rims. She likes to get in and crank up the music and let all her worries fade away.
"I'm not going to give up. I want to be happy every day. I'm a very strong woman. I don't let anything stop me," she said. "God's got me. I'm not even worried."
Suggest a Story
Have an idea for MUSC Catalyst News? Contact our editorial team and let us know.
About the Author
Keywords: Cancer