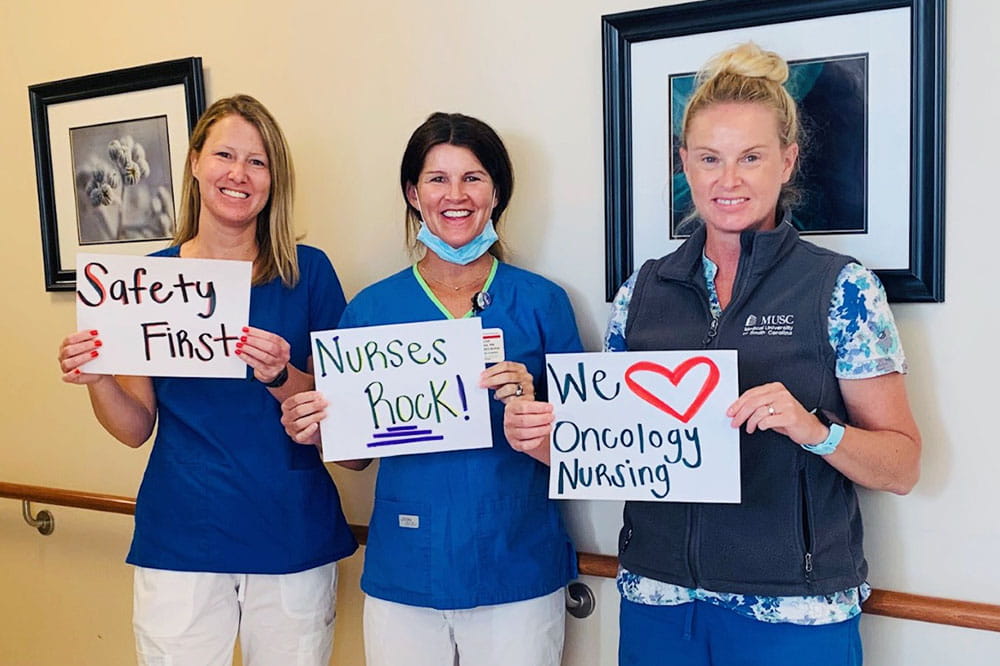 While Ben Hagood was being treated for two blood cancers at MUSC Hollings Cancer Center — multiple myeloma and B cell acute lymphoblastic leukemia — he learned only too well the powerful role oncology nurses play during treatment. 
"I can't tell you how much I appreciate the nurses both at Hollings and in the bone marrow transplant unit at Ashley River Tower," Hagood said. "The oncology nurses are the most compassionate, caring, skilled and committed professionals that I have ever experienced, and all I can say is, thank you. You helped save my life!"
It's a sentiment that many are echoing in May during Oncology Nursing Month as these nurses are celebrated for their hard work and dedication.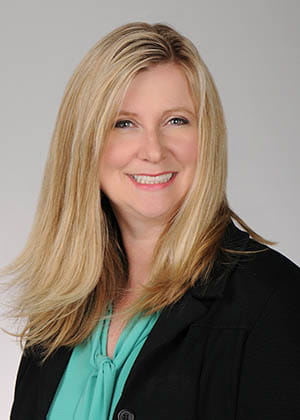 Cindy Kramer, R.N., program director of Oncology Navigation and Blood and Marrow Transplant (BMT) program at MUSC Health, describes oncology nursing as a special calling. The nurses support patients throughout their cancer journeys while providing the highest quality of care with compassion.
"Oncology nurses deserve to be honored because they give their hearts and souls every day to help patients," Kramer said. "These are our front-line nurses delivering very complex treatments that require a high level of expertise and knowledge. They perform their jobs exceptionally well while supporting the emotional needs of their patients and families. I often receive letters from patients thanking them for their care."
For many oncology nurses, the appeal of the profession is to be able to care for patients who need a little positivity in their lives during what's often a scary time. Oncology nurses know all about that. There was the time Kramer dressed up as Cinderella to cheer up a little girl who was losing her mother to cancer. It was a special day that even included her arranging for a carriage ride during a holiday parade. And, there was the time last year when a whole team of oncology nurses helped arrange a way for a teenage couple to celebrate their final moments together in a special ceremony.

These stories capture the essence of the dedication and passion of oncology nurses. The following nurses share what drew them to this field and how it has blessed them.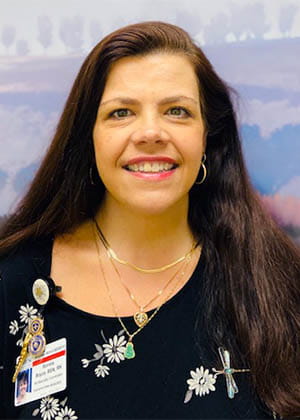 Bonnie Boyce, R.N., hematologic malignancies nurse navigator, who has been providing care for Hollings cancer patients for nearly two decades, felt that oncology nursing was a perfect match for her personality type. 
Boyce, who has been awarded "Nurse of the Year" for both inpatient and outpatient units, said she enjoys working with a wonderful team of doctors and fellow nurses. As a child, Boyce was inspired by family members in the health care profession and a neighbor who was a nurse. She knew that the combination of science and caregiving would ultimately lead her to oncology nursing.

"We are helping patients survive with dignity," Boyce said. "Sometimes, it is important to think what that other person might be going through and just how that moment might make a difference for them. That is what being a human being is all about."

Boyce believes sometimes a simple word of encouragement can radically change a patient's experience. Though the job is not always joyous, given the nature of a cancer diagnosis, scared patients are grateful to have a nurse who shows they care.

"It just takes one thing to make a difference in somebody's life, and they will remember you for it," Boyce said. "It could just be a word of comfort or smile that might really make a good memory for a patient, and I think that nurses are in the prime position to do that."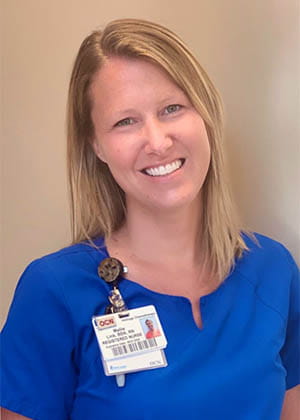 Mallie Link, R.N., a Hollings nurse who works with BMT and general oncology patients, agrees. She has provided care for five years and has devoted a decade of work in the field of oncology. She believes that no matter how big or small an act of kindness is, there is always a patient who truly benefits. 
"The patients are grateful, and it's a pleasure to work with them," Link said. "It makes me look forward to come into work and be able to provide care and maybe help their day be a little bit brighter."
Cancer patients have a lot on their plates and can face side effects from treatment, so she likes to spend the time to listen to them and help them relay their health goals and concerns every day. She is always touched when former patients come back and share their appreciation for how she cared for them. Sometimes they are thankful that she just listened.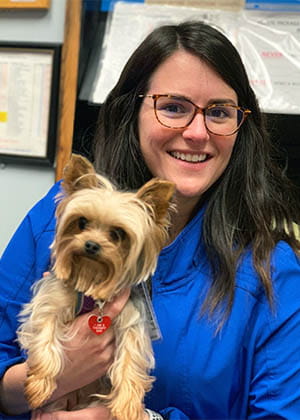 Sarah Verner, R.N., in the surgical oncology unit at Hollings, believes it is a privilege to work with such special patients.
"What drew me to nursing was the impact I can have on somebody's life in just one day," Verner said. "What has surprised me the most was the impact my patients have had on my own life from just a single interaction. Every day, there is something new to learn."
Oncology nurses tend to excel at listening and focusing on the patients' needs, said Debra Cassidy, director of ambulatory services for oncology and transplant. Oncology patients often require extensive care, requiring nurses to provide emotional as well as physical care.
"Oncology nurses come to work every day knowing that they can make a difference to someone by just being there for them, listening, caring and understanding what they might be facing," Cassidy said. "They never complain and always pull together to get patients the care they need."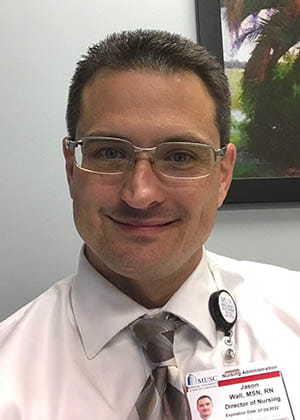 Hollings director of nursing in inpatient oncology, Jason Wall, R.N., is humbled at the dedication of the center's oncology nurses who are helping others in the fight for life.
"Oncology nurses serve as a beacon of light for cancer patients and their families as they guide them through their treatment process throughout their cancer journey," Wall said. "I am truly humbled at the dedication and sacrifices displayed by our oncology nurses who are a true credit to the nursing profession."
About the Author
Vagney Bradley

Keywords: Cancer