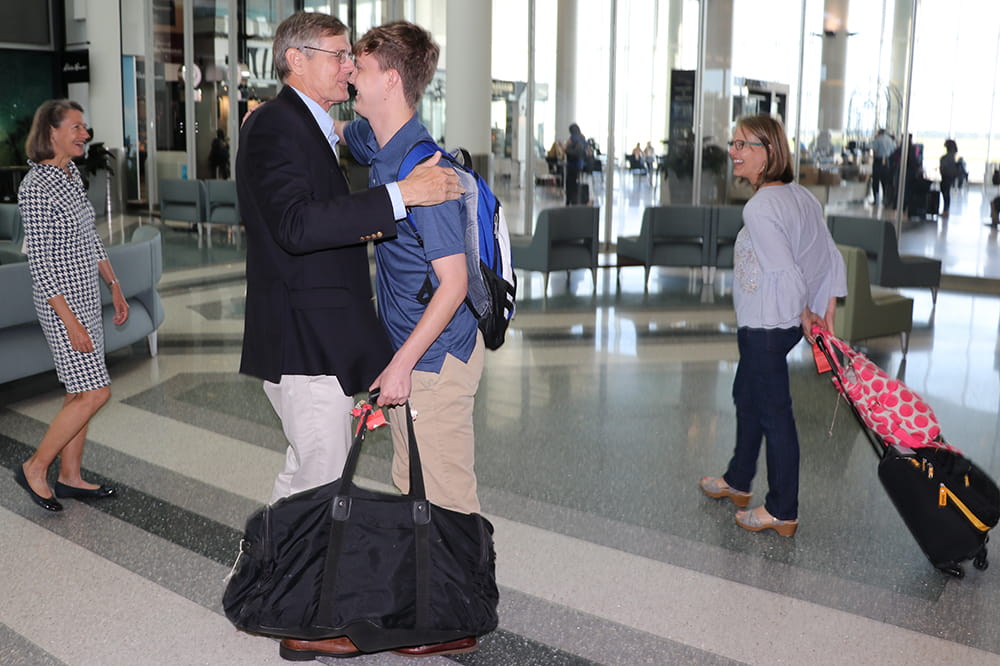 It's odd how fate works.
Four years ago, Charleston lawyer Ben Hagood was planning a dream vacation – a sailboat trip catching breezes in the Caribbean. Meanwhile, Thomas Hayes was looking forward to graduating from high school in his hometown in Kentucky.
The two, about 40 years apart in age, knew nothing about each other. They didn't know they shared a strong Christian faith, for example, or had similar senses of humor. They didn't know that if they met, they'd get along famously.
At that time, Hagood was enjoying life with his wife and two daughters. Hayes was enjoying life as a teenager anticipating high school graduation. He was eating lunch with his friends as they shared plans for the summer. An announcement was made that anyone 18 and older could come and be swabbed to be a potential stem cell donor. Hayes, who had just turned 18, debated going. He came close to opting out.
"It was lucky that it was that day, because if it was the day before, I never would have had this opportunity. And when we were all sitting around at lunch, and they called everyone to go up, I debated it for a second because I thought this will never happen. But I said if I have the chance to save someone's life, I might as well take the time. And I got swabbed."
Fast forward two years. It was five days before Hagood would leave for his trip of a lifetime. Hagood, who had had multiple myeloma, had been in remission for about six years. He debated canceling his routine check with Robert Stuart, M.D., an oncologist at Hollings Cancer Center, who specializes in blood cancers. He was excited and had a million details to arrange to be ready for his trip.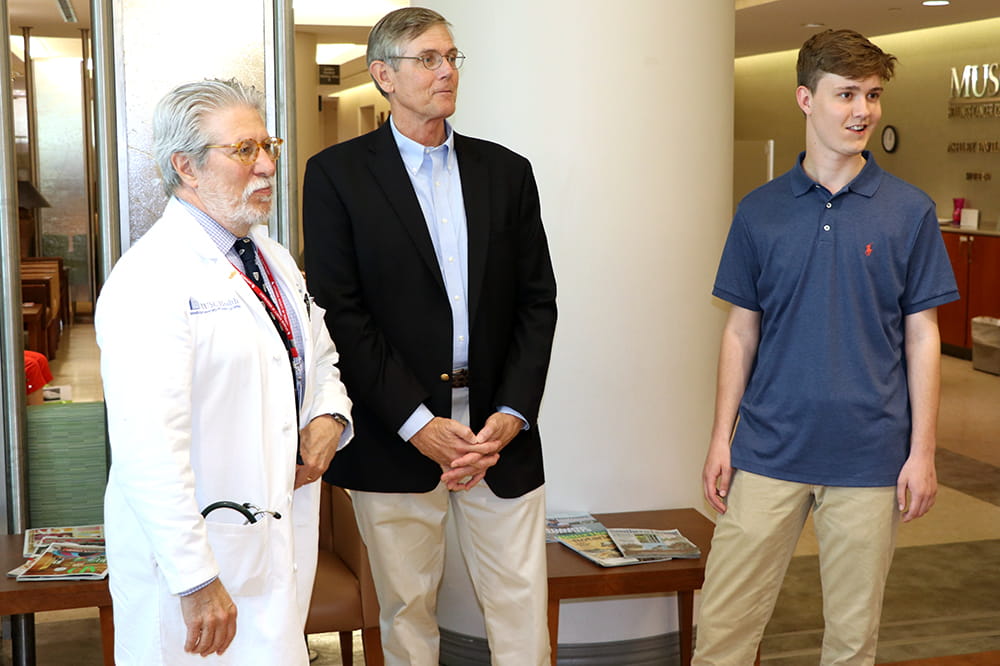 In the end, he kept his appointment. Unfortunately, the visit didn't go as usual. Stuart told him he didn't like the blood results, and he would be rerunning some tests. He'd call him in the morning.
Hagood tried to shift the worry and asked for prayer the next morning in his Bible study group. Shortly afterward, he got the call. "I think you better come in," Stuart told him.
"Am I going sailing?" Hagood asked.
"No, you're not."
Hagood reeled from the bombshell. Knowing Stuart's an expert in this area, he didn't argue. He came in for a bone marrow biopsy and got the confirmation that not only did he have B cell acute lymphoblastic leukemia (ALL), but also he was very sick. He had 10 medications to pick up from the drugstore on the way home. His wife was traveling overseas, and he didn't want to ruin her trip, so he decided not to tell her.
He unpacked his bags and went to get chemotherapy ports installed in his chest. "That was a lonely moment. I'll be honest with you."
Hagood learned that the acute leukemia was very different than the multiple myeloma he had had earlier. "It moves very fast. My bone marrow was clear a year earlier… But when Dr. Stuart got the bone marrow biopsy and the blood, the full blood test workup, I had something like 90% of leukemia blast cells in my blood and my bone marrow, so 90% of my system was diseased."
Stuart didn't share at the time how serious it was. Hagood could tell, though, that his daughter Nancy, a medical student who at the time was doing her rotation on the floor where he would be treated, knew. Hagood would later find out that if he had skipped his appointment and gone sailing without getting the proper treatment, he could have been dead within two weeks.
"So that thing was moving that fast. And, you know, I think about the timing of it all. How horrible was that? That it happened right before the sailing trip. But then you know how blessed I am that I got to have that blood test right before I went, and this thing got caught."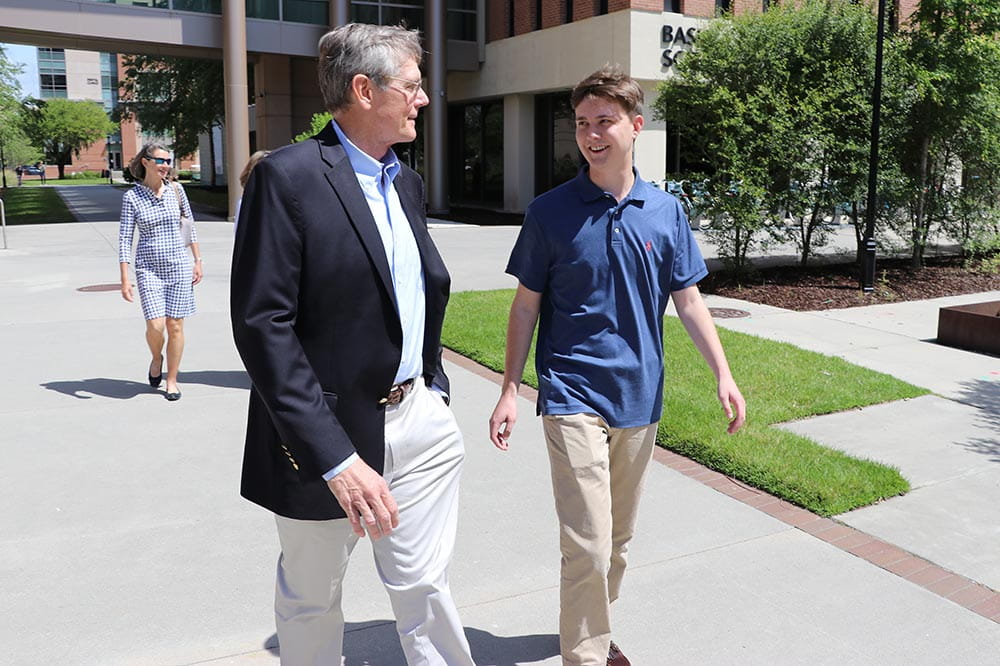 Blood connection
Stuart worked to get Hagood's cancer in check and buy him time until a stem cell transplant could be arranged. The beauty of that transplant, if successful, is that it would be a double cure, both for the multiple myeloma in remission as well as the B cell ALL diagnosis.
Hagood, who has three brothers, figured someone in his family would be a match. "I was told by Dr. Stuart and the coordinator that my brothers were my best likelihood of a match, so they worked up my brothers first."
It turned out that not one was a match, but there were more than 100 people in the database who were a full match, something he came to realize later was quite unusual. The search to find the youngest, best match led to a college student at Ohio University in Athens, Ohio, who hailed from Kentucky.
Hayes was on vacation when he got the call that he was a match. "I kind of forgot about it for two years. Two years later, I was sitting on my couch, and I get a call from a New York number. I'm thinking I don't know anyone in New York, and for some reason, I decided to pick it up."
He learned he'd been identified as a potential match for a patient with leukemia and was asked if he'd be willing to submit a blood sample, which he did. About a month later, he was told he was a perfect match and asked to come to Washington, D.C., to undergo some tests.
"A week later, on August 2 of 2017, I donated my cells, and one day later, they were here in Charleston," Hayes says. "It felt surreal, because I remember when I first had that initial screening that they said one in 750 people get a call, so I was thinking this will never happen to me. And when it did happen to me, the guy kind of went over that sometimes people aren't willing to do it."
Though his mom was nervous and wanted more details, Hayes had a sense of peace about it. "I thought I have this surreal opportunity to be able to save someone's life. It's worth a little discomfort that I'll have to go through to get the chance to do it. It was an amazing opportunity. It's a feeling that I have the unique chance to feel, and I'm glad I did."
Hayes did a nonsurgical donation, which he thought would be the smoother of the two options. He went to Washington, D.C., and was hooked up to an IV for six hours. Other than fatigue the next day, Hayes says it wasn't that bad.
During the procedure, blood goes from one IV site into a machine where the white blood cells and stem cells are separated (by centrifugation) from the other blood cells and shunted into a bag. The other blood components, such as the red cells, platelets and most of the plasma are returned to the donor through another IV site. Hayes says the worst part for him was having to sit for six straight hours. Asked if he'd do it again, he smiles. "Absolutely."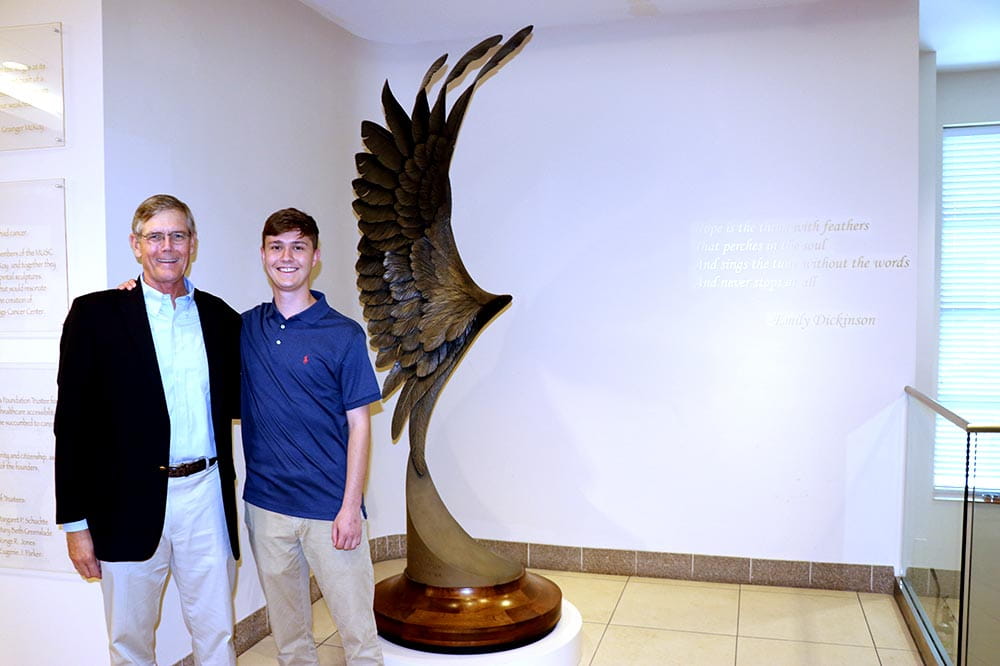 Donor reunion
In the lobby of Hollings Cancer Center is a giant sculpture of a wing. The artwork by Grainger McKoy is called "Recovery Stroke." It's a place Hagood, who responded well to his transplant, knew he wanted to go if and when he ever got to meet and thank Hayes.
Not everyone meets their donor, as there's a year wait and both parties have to agree. During that time, Hagood couldn't shake a need to thank his donor, though, and he decided he would try to reach out to the Be The Match program to see if his donor was willing.
Hayes was. They began corresponding and instantly bonded. On May 10 this year, they met in person. Hayes flew into Charleston with his mom and was met by Hagood and his family. As they toured Hollings Cancer Center and met the staff involved in Hagood's treatment, there were tears and hugs all around.
Hagood, as he'd hoped, got to stop with Hayes in front of the sculpture. Drawn to the sculpture because it symbolizes the wing at the weakest part of the flight stroke, Hagood says it captures where he was before he got Hayes' life-saving transfusion. The position produces neither lift nor forward momentum, but it has to happen to prep the power stroke to propel the bird forward.
Hayes helped him with his recovery stroke, and in the process, became a lifelong friend, he says.  "My daughter said that it was kind of like Dad's long lost son is coming home. And yeah, I mean, it's just somebody I have a blood connection with in an extraordinary way. It's someone who has helped give me the gift of new life. I was just really excited to see him and thank him in person."
Hayes, now 22 and a senior in college, feels the same way. They discovered they share the same Christian foundation and faith. "Growing up, it's what I was taught. It's where a lot of my morals have come from," says Hayes.
"I've learned through the Christian faith to do unto others as they would do unto you. And if I was in his situation, sitting in his shoes, and there was someone with the opportunity to save my life, I would certainly want that to happen. So my faith really kind of pushed me to do this and gave me the moral background that I needed to make a decision like this."
Hagood says he knows he's lucky. Not everyone finds a match. He and Hayes hope their story will encourage others to get on the registry. For his part, he knows Hayes was meant to be in his life. There are too many intertwining links in their stories to be just fate. "It's a God thing," he says. "There are coincidences too great to be random."
Hayes' maternal grandfather was a close friend of former MUSC President James B. Edwards, who gave Stuart the approval to perform the first bone marrow transplant in the state 32 years ago. His paternal grandfather died of leukemia, something he didn't know until he became a donor.
Hagood says he'll be forever thankful to Hayes. "I think it's from the divine that gives us all a desire to want to help other people. And I think that's what motivated Thomas, originally, when he had the opportunity to go in the registry. But how extraordinary for him at age 20 to be part of this amazing medical process where he's actually helped save my life."
Hayes says he loves Charleston and feels a part of the Hagood family now. "I mean, there's this connection that you just can't fake. This is something that's real and something that's special between two people. I think we'll stay friends for the rest of our lives."
Be The Match
To learn more about or sign up for the National Marrow Donor Program visit their Be the Match Registry.
About the Author
Keywords: Cancer