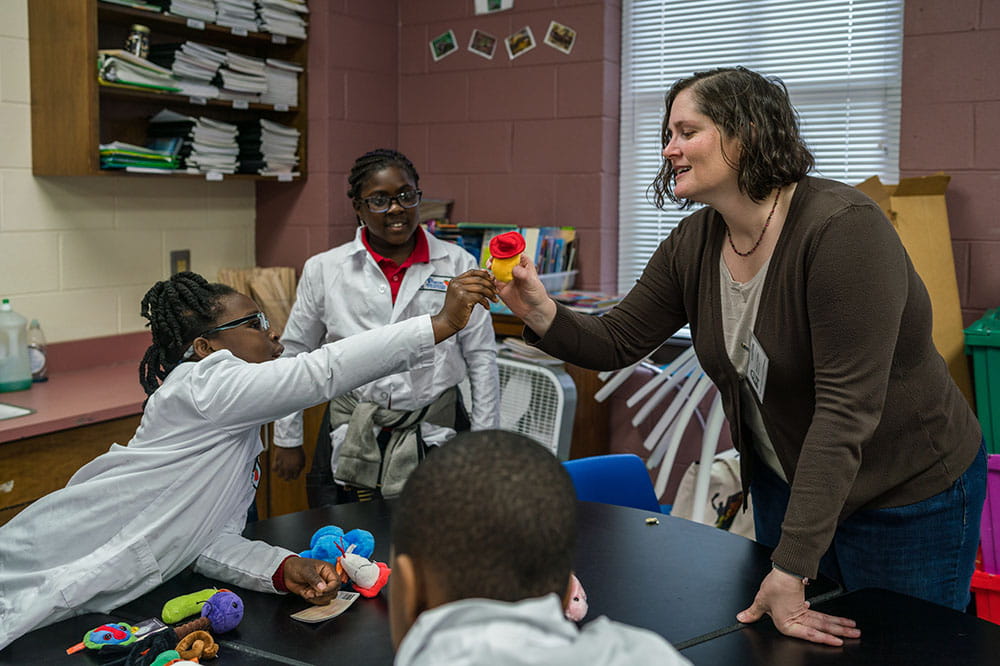 Some teens know early on that they want to be graphic designers, dentists or professors. Others need to try their hands at many things before deciding where to plant their seeds. For Diana Fulmer, it was at science camp that she discovered where she wanted to plant hers.
And science, from there forward, would play a major role in her journey — one that would lead her to the Ph.D. program at MUSC College of Graduate Studies and later, offers from the University of Pennsylvania and Harvard, Yale, Stanford and Columbia universities. 
Fulmer excelled at MUSC and in late April was selected as co-recipient of the college's 2020 Distinguished Graduate Award. This week, she will graduate from the rigorous program. 
"Throughout her time working with me, Diana has become an MUSC diplomat, an impressive experimentalist and philosopher as well as an MUSC community service leader and ambassador for women in science," wrote Russell "Chip" Norris, Ph.D., associate professor in the Department of Regenerative Medicine and Cell Biology, in his letter nominating Fulmer for the award.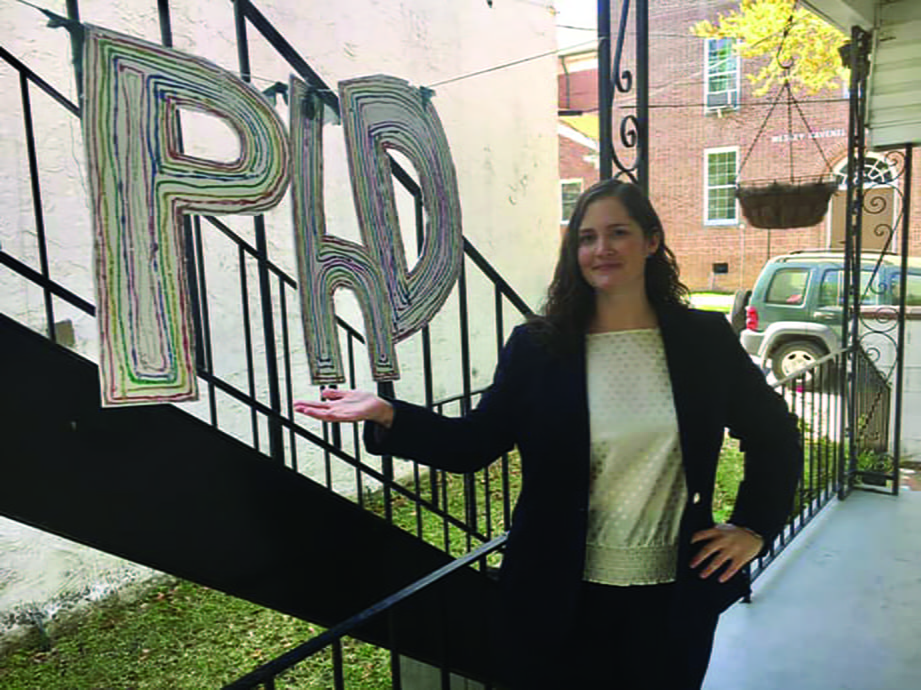 "I'm truly humbled to receive and share this award presented by faculty and staff," said Fulmer. "I've loved my time at MUSC — especially the people and experiences. It has truly been an honor." 
Originally from Aiken, South Carolina, Fulmer grew up in a nuclear Navy family — her father was stationed on submarines. Growing up, graduate education wasn't a priority within her family. But that began to change for Fulmer after she attended a summer science camp at Erskine College as a teenager. There, she learned about the science of agriculture and cloning plants. A lover of biology, she got to taste the first batch of French fries grown from genetically-modified potatoes. "I couldn't tell the difference," she said, excited. 
After high school, she married sweetheart, Nate Fulmer, who shared her vision and value of education. The couple just celebrated their 21st wedding anniversary. 
But Fulmer was intent on expanding her education, with an eye ever focused on a career in science. Even after nine years spent in unrelated jobs that included bank computer programmer, drive-in movie operator, video store manager, podcaster and property manager, she has emerged as an independent leader in the field of cardiovascular research. 
"Honestly, I think having some life experiences guides you to where you want to be," she said. "There was a point in my life that told me graduate school is what I wanted to accomplish. There was no question in my mind." 
Educational Path 
Fulmer mapped out her path. The couple moved to Charleston in 2004 and started her educational journey in 2008 at Trident Technical College before moving to the College of Charleston where she would graduate at the top of her 2014 class with a biology degree. The next year, she worked in the neurosciences lab of Patrick Mulholland, Ph.D., who encouraged her to apply to graduate school. 
"I loved the collaborative environment at MUSC. Everyone was so helpful and welcoming," she recalled. 
During that time, another of those life experiences would serve as a catalyst that would help to inspire and steer her toward MUSC. Her nephew, Atticus Goodahl, was born in 2009 with severe congenital heart disease at MUSC Children's Hospital. Diagnosed with hypoplastic left heart syndrome, no left ventricle, he spent his first six months in the neonatal ICU and underwent multiple heart surgeries. 
"I observed how MUSC interacted with my family," she recalled. "And it left a really positive impact at the time with everyone. Especially me. I knew at that time I wanted to be part of that."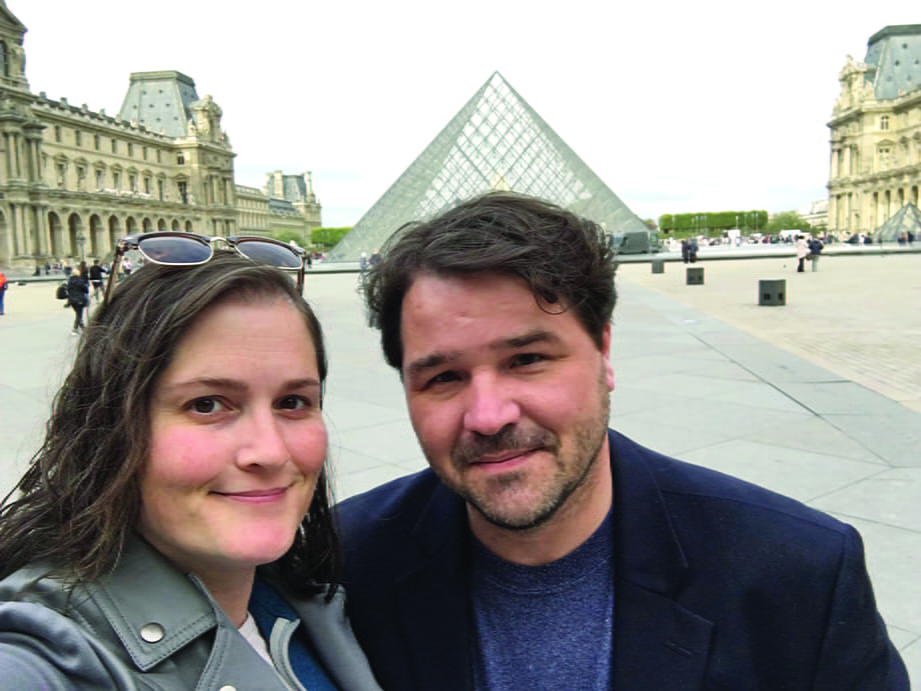 In 2015, Fulmer began her doctoral studies in the College of Graduate Studies, rotating through different research labs to determine her preferred area of research. That's when she was introduced to Norris, her primary mentor at MUSC. 
Norris' lab studied the development of heart valves, specifically cellular organelles, called primary cilia, which are responsible for how valves grow and develop. Fulmer's work focuses on factors that disrupt the organelles and cell signaling. 
Her work was published in 2019 in the American Heart Association's journal, Circulation, and later in a landmark paper, Science Translational Medicine. 
Fulmer's time in the lab also helped her hone her mentorship skills, teaching and lecturing. During her five years at MUSC, she helped 25 students manage their lab projects. According to Norris, this experience influenced her ability to present and communicate scientific ideas effectively. She was recognized with numerous awards — from winning the Eric James Oral Presentation Award for first place in the 2018 Perry V. Halushka MUSC Student Research Day to winning multiple poster and oral presentations in 2017 at the Karolinska Institute in Sweden and most recently at the Heart Valve Society Meeting in Spain in 2019. 
"Her teaching, mentorship and presentation skills are outstanding," said Norris. 
Navigating a digital defense
Like many doctoral students at MUSC, and all over the country, the idea of conducting their Ph.D. dissertation defenses would prove challenging during this time of coronavirus. Instead of conducting a live presentation in front of her dissertation committee, Fulmer had to defend online via WebEx video conference. "Diana impressed us by clear and independent thinking, developing her own hypotheses and pursuing those in her own way; obviously she was well-mentored by Dr. Norris. Under Drs. Norris and Lipschutz' guidance, Diana became one of the most productive students that our department has generated over the years," said Andy Wessels, Ph.D., vice–chair of the Department of Regenerative Medicine and Cell Biology and co-director of MUSC's Cardiovascular Developmental Biology Center, who served as one of her advisors. 
But what she missed was the human interaction and subtle engagement with a live audience. "I hadn't realized just how valuable it is for me, as a presenter, to rely on small cues from the audience such as a person's nod in agreement or affirmation, a smile and other non-verbal expressions. It's the presenter immediate feedback. Online, it's very different as you're only looking at a computer screen," she said.
On the other hand, her husband and other family members were able to listen to her presentation. "It was an interesting experience, but had its upsides as well."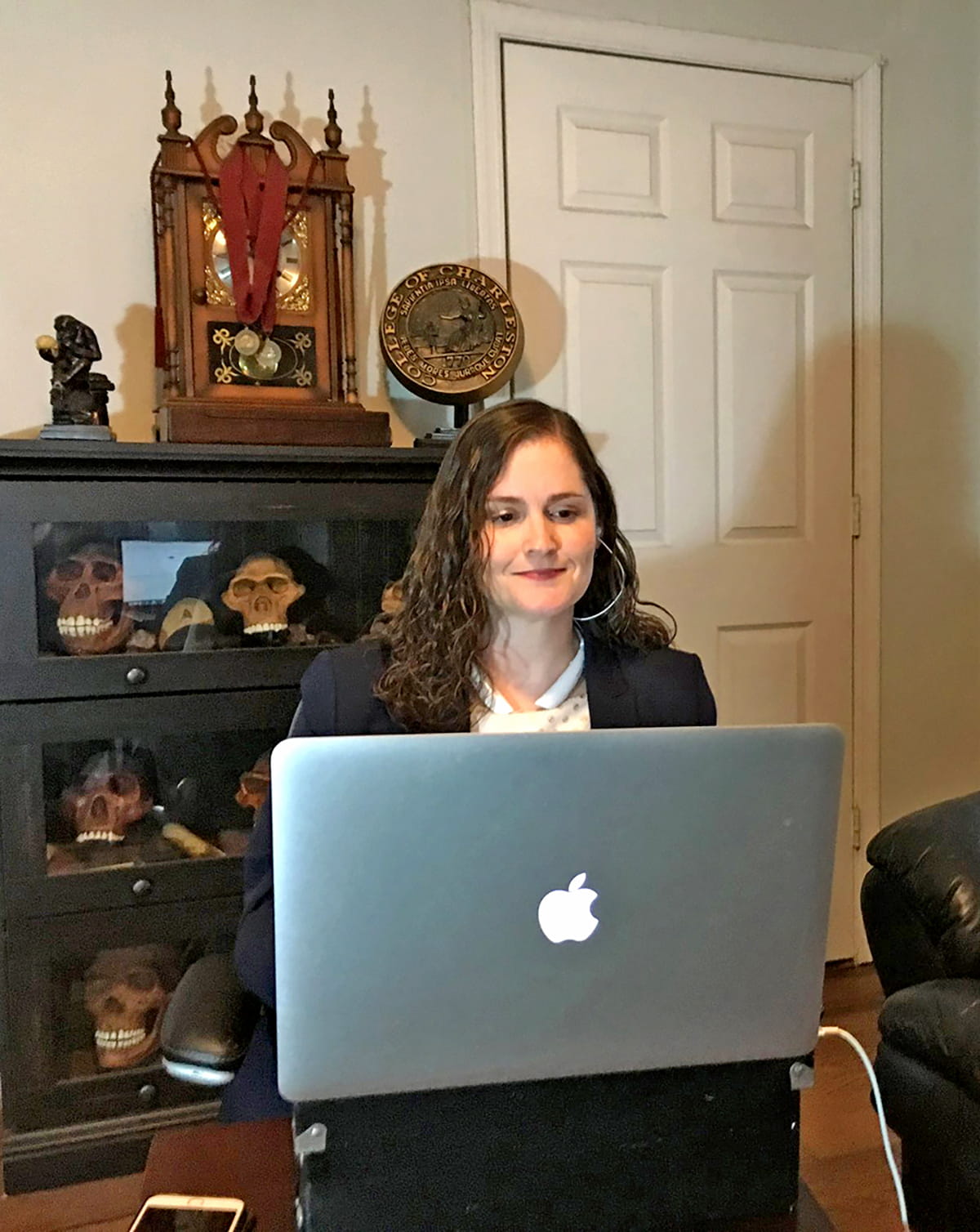 Fulmer is excited about her next step — post graduate studies at the University of Pennsylvania's Perelman School of Medicine. Because of the quality of her innovative work, she was interviewed by several highly regarded scientists in the field of cardiovascular research and later, offered postdoctoral positions at every institution she visited, including several Ivys. She'll be working for the next five years with accomplished researcher Jonathan Epstein, M.D., whose work with epigenetic regulation, developmental biology and cardiovascular medicine aligns with her research vision. 
But Fulmer won't be moving to Philadelphia as soon as she'd hoped. The current COVID-19 situation has put her plans on hold as Pennsylvania remains under a stay-at-home order until June 4. In the meantime, she's working a temporary postdoc job in Norris' lab, assisting with cardiac fibrosis and mitral valve prolapse research and setting up projects for incoming graduate students. 
Instead of a commencement ceremony on May 16, MUSC will instead hold a special drive-thru diploma pick up for graduating students. Fulmer plans to participate, dressed in cap and gown, and in a decorated car, with husband Nate in tow. On Aug. 8, she'll participate in her college's hooding ceremony and reception at St. Luke's Chapel to recognize the Class of 2020 graduates. 
"I have so many good memories and great friendships that I'll miss when I leave MUSC," said Fulmer. "Dr. Norris was a great mentor to me. He gave me the opportunity to present my research around the globe — around the U.S. and Europe. He also gave me the opportunity to work outside the lab and encouraged extracurricular activities and finding a work-life balance, which has made my experience at MUSC so great." 
Get the Latest MUSC News
Get more stories about what's happening at MUSC, delivered straight to your inbox.