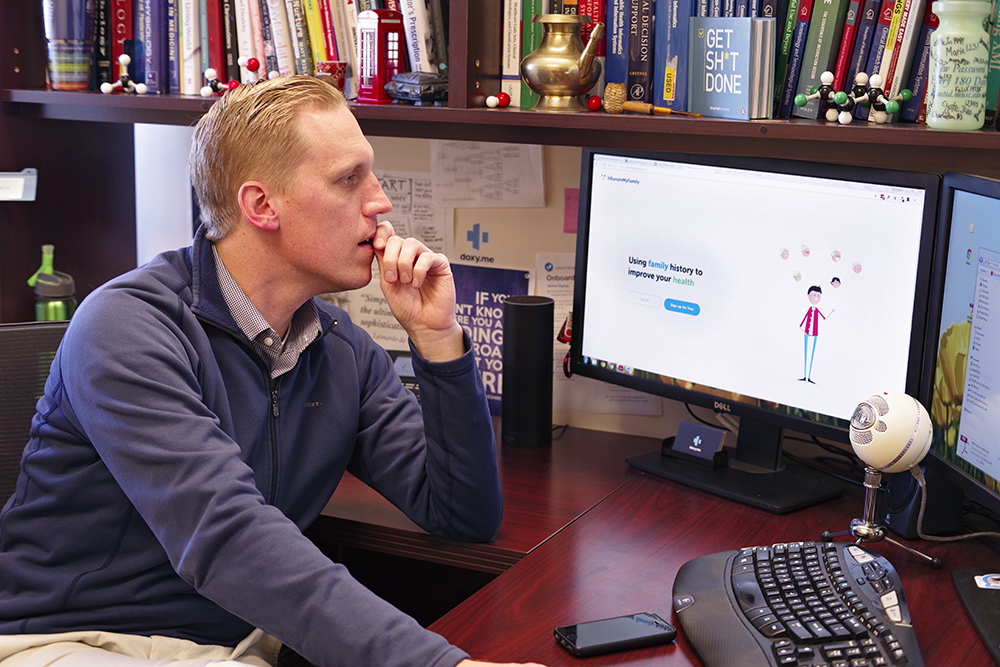 What power artificial intelligence (AI) offers to assess hereditary cancer risk in low-resource community settings is the target of a new study by a researcher with the Hollings Cancer Center at the Medical University of South Carolina.
Brandon Welch, Ph.D., who also is a biomedical informatics researcher with MUSC's Department of Public Health Sciences, received a $300,000 grant from the National Cancer Institute (NCI) to expand his previous work that created the program ItRunsInMyFamily.com. The program was created in 2016 to determine hereditary risks for cancer with the support of an $867,000 grant from the NCI.

Originally designed as a type of social network provided through an app, ItRunsInMyFamily has evolved into a simple informatics tool that uses artificial intelligence and social networking to collect family health history from patients. Participants complete a short 10-minute questionnaire easily accessible through a website. The free survey, which was built by cancer and informatics experts, using the most current health care guidelines and models, helps individuals do a comprehensive hereditary risk assessment.

Welch said the data collected can help not only individuals assess their own cancer risks, but it also can help physicians collect data on patients' family medical histories in a timely and efficient manner, better enabling health care providers to recommend genetic counseling to at-risk patients, he said.

In November, a Facebook campaign recruited over 14,000 new applicants to take the survey, predominantly in South Carolina. As Welch continues to test the site and collect and analyze data, he's excited about getting the tool out to rural communities that don't necessarily have access to electronic medical records.

"Here at Hollings, we have resources to bring in genetic counselors," Welch explained. "But there are a lot of cancer clinics out in the community that don't have those resources, and they don't do genetic counseling, and they don't do genetic testing."

Phase one of the project is all about understanding what the clinics' needs are and how they want to use the tool. The clinics have been equipped with ItRuns brochures that have scannable QR codes that can quickly connect users to the tool's website via their cell phones.

In the meantime, Welch's team gathers results to analyze and help determine the next steps. Welch said that the tool has had an impactful reach for a reasonable cost, with about $10,000 having been spent to recruit 5,000 users. A dokbot tool is a chatbot that simplifies data capture from a simple conversation, has data security and is complaint with medical information privacy laws. The dokbot tool leads participants through a series of questions, and an analysis of the results is emailed to participants' accounts.
"Here at Hollings, we have resources to bring in genetic counselors. But there are a lot of cancer clinics out in the community that don't have those resources, and they don't do genetic counseling, and they don't do genetic testing." 

Brandon Welch, Ph.D.
"That's a pretty good return on investment, especially if they then go and get a mammogram. If they go and get care. If they will get identified as having cancer, and they didn't know it," Welch said.

Next, the researchers will do more testing, analyzing and tweaking. Another critical question is what to do when the tool identifies a user who's at risk.

"There's this gap between finding out someone is at risk and then getting them genetically tested and set up with the appropriate care," he said. There's often a scarcity of genetic counselors at rural hospitals and a backlog of patients who know they're at risk but haven't been properly counseled."

Welch and colleagues are exploring if there's a more effective way of doing that. "In the genetics industry, there's a movement toward using video education and chatbots to do some of the genetic counseling."

This month, Welch and his team will start building out the counseling piece of the tool, which will include educational videos and the dokbot. Once a patient gets a high-risk assessment, they'll also have the option to learn more about getting genetic testing through a video. The dokbot will be prepped to answer relevant questions to prepare them to get genetic testing, which their doctors can order for them.

Ultimately, Welch would like to harness the power of AI and offload to computers repetitive tasks so doctors and clinicians can focus on more complicated issues. "The easy stuff can be handled by the technology," he said. "We can use technology to automate all the pretest counseling and assessment. There are a lot of patients, and there are a lot of things that doctors just don't have the time to do. Because it is very repetitive, it can be automated," he said.

Welch is careful not to pit a computer against a human, though. While there are things computers can do better, there are also some jobs meant solely for humans. But working together, the two can make a big difference in terms of how many patients can be assessed in a smaller period of time, he said.

"Computers are great at accuracy. They're great at speed. And they're great at automating repetitive things," he said. "Humans are great at compassion and understanding nuances and verbal cues. So, getting the computer to do what it's good at, then getting humans do what they're good at, you can make cancer care more and more efficient."
Want to try it out?
1. Pull up the link ItRunsInMyFamily.com

2. ItRuns prompts users via its dokbot through a series of questions, such as:
Have you ever been tested for a genetic mutation in a cancer-causing gene?
Has anyone in your family had cancer?
Do you have Ashkenazi Jewish ancestry?
Have you ever smoked cigarettes regularly? 

3. If possible, ask your family members about their health histories prior to the
assessment to learn details you may not have known before.