Greenberg Greenway
"Fruit doesn't fall far from the tree but their seeds can go places and wherever they go by their virtues they leave their traces"

– Indira Mukhopadhyay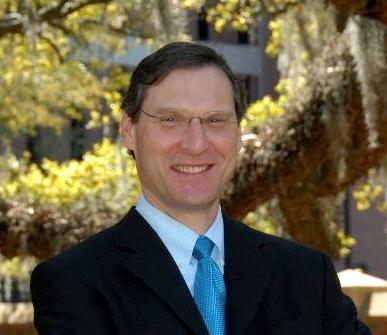 Dr. Ray Greenberg, MUSC President from 2000 to 2013, recognized the importance of health and wellness promotion as a strategy to help maximize health and well-being, supporting the mission of MUSC. He understood that comprehensive health promotion and wellness efforts within MUSC were essential to maintaining and improving the health of our organization as well as the broader community.
Through his passion and commitment to these principles, Dr. Greenberg supported the integration of built environment and green spaces that promote healthy behaviors and lifestyles. His dedication to creating an environment that contributes to health and well-being is evident throughout the MUSC campus. The Greenway was established in August, 2013, as Dr. Greenberg resigned from his thirteen-year tenure as President of the University to honor his work in creating an enduring system to support health and wellness at MUSC
What is the Greenway?
The Greenberg Greenway is a series of greenscapes that connect people with places that support the environment and ecology of our campus, provide opportunities for hands-on learning, and create an inviting space for exercise and other health-promoting activities. Components of the Greenway include Examples include the creation of a tobacco-free campus, a smoke-free medical district, and multiple green initiatives such as MUSC Sustainability, the MUSC Urban Farm, the Porcher Medicinal Garden, the MUSC Arboretum, Walking Trails, the MUSC Fitness Park, and the recently added Charleston Medical District Greenway. It will continue to evolve with the campus and beyond. The Greenway is an example of MUSC's commitment to its mission by providing healthy options and innovative programs that contribute to a higher quality of life, healthier environment, and overall wellness for all who visit the campus.
Landscape architect Phil Lewis characterized greenways as environmental corridors, which he has dubbed "E-ways," for the main purposes of Environment, Ecology, Education, Exercise, and Expression. In addition to creating spaces and connecting places that provide health and wellness opportunities, greenways are important components of the sustainability movement. Traditionally, wellness and sustainability were considered to be allied partners but rarely operated within the same realm. This phenomenon is slowly changing as an emerging focus on the interdependencies between human health, well-being and sustainability becomes more widely accepted. There are strong links between healthy and sustainable lifestyles and the built environment, in particular green spaces and gardens can provide resources to further strengthen these connections.
There is a significant body of evidence describing how green spaces can contribute to better health and education outcomes. Several studies show that contact with the natural environment and green space promotes good health, while participation in regular outdoor physical activity generates physical and mental health benefits. Physical exercise in natural environments has important implications for public and environmental health. Many studies have concluded that there are also economic benefits associated with being physically fit: lower medical costs and fewer insurance claims, increased job productivity, decreased absenteeism, decreased depression, lower levels of job turnover, and prevention of disabilities.