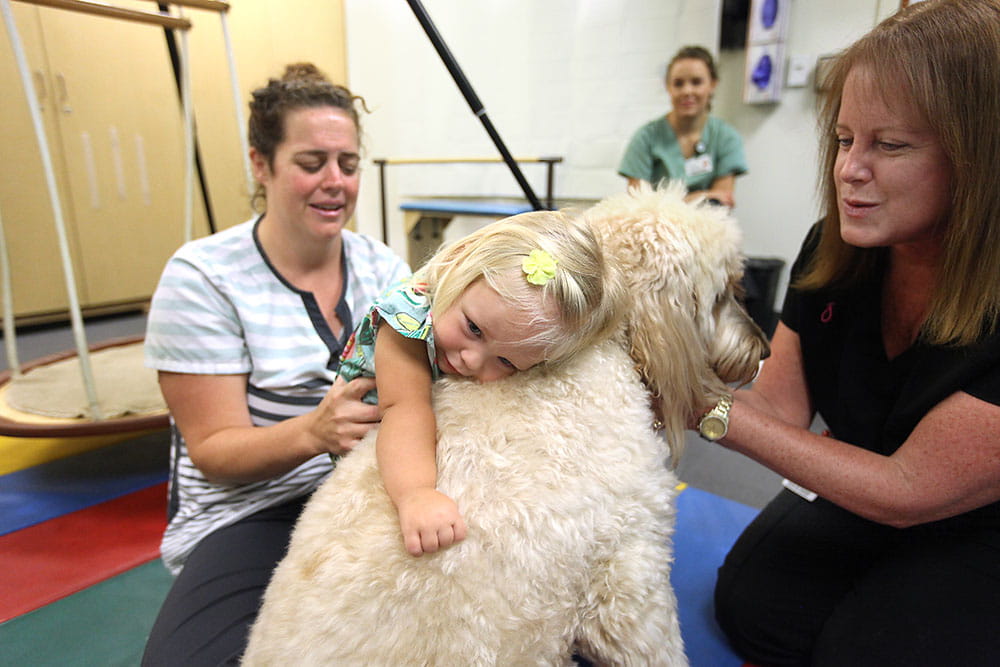 There aren't many dogs that would tolerate a child repeatedly pulling clips out of its fur. But for Macy, a 6-year-old goldendoodle, it's just another day at the office. Before this particular Monday is over, she'll have chased a ball, worn a vest of buttons and zippers, walked slowly and patiently on a leash and acted as a living, breathing cuddle reward for a job well done.  
Macy and her human, Susan Hall, are one of two dog teams that work with physical therapists, speech language pathologists, occupational therapists and their patients at the MUSC Children's Health Therapy Center in North Charleston. The program is an offshoot of the MUSC Health pet therapy program in which dogs make the rounds of the hospital and university campus, visiting patients, families, students and staff to bring smiles and joy in what's often a stressful place. 
While the pet therapy program has been in place since 2005, Hall and Macy were the first team to begin actively working with rehab patients in February 2017. The pair started off in the main hospital doing regular patient visits after Hall was laid off from a 35-year career in banking. But those visits never felt quite right, she said. 
"Macy loves kids. When I was going to the hospital, I just didn't feel like that was what we were designed to do as a dog team, because she loves kids so much," she added. 
When they got the call to try a new way of doing physical therapy, they jumped on board and haven't looked back. Now, between Hall and Macy and the second team of Susan Wallace and her labradoodle Borden, there's a dog at the therapy center twice a week. Hall said she varies her schedule so as many children as possible have a chance to work with Macy. 
On a recent July Monday, 20-month-old Ellie Wilson got the chance to work with Macy. Ellie was recently diagnosed with Aicardi-Goutières syndrome, a rare genetic disease that damages the myelin sheath, the protective coating around the central nervous system. Although Ellie's muscles and bones are fine, the disease causes a misfiring of messages from her brain to her muscles, said her mother Jill Wilson. 
As a result, Ellie – who was toddling around Savannah on St. Patrick's Day – can no longer sit, crawl, stand or walk. However, she has just started a clinical trial with the Children's Hospital of Philadelphia. Her parents are hopeful that, although the drug won't be able to repair the damage that's been done, her young brain will be able to rewire itself to find another path to get her feet to move properly. 
In the meantime, physical therapist Erica Pfeiffer patiently works with Ellie to bend her arms and legs, which Ellie holds stiff and straight. Pfeiffer can feel Ellie's legs relax and give in to the bend as the little girl is absorbed in petting Macy's fluffy coat.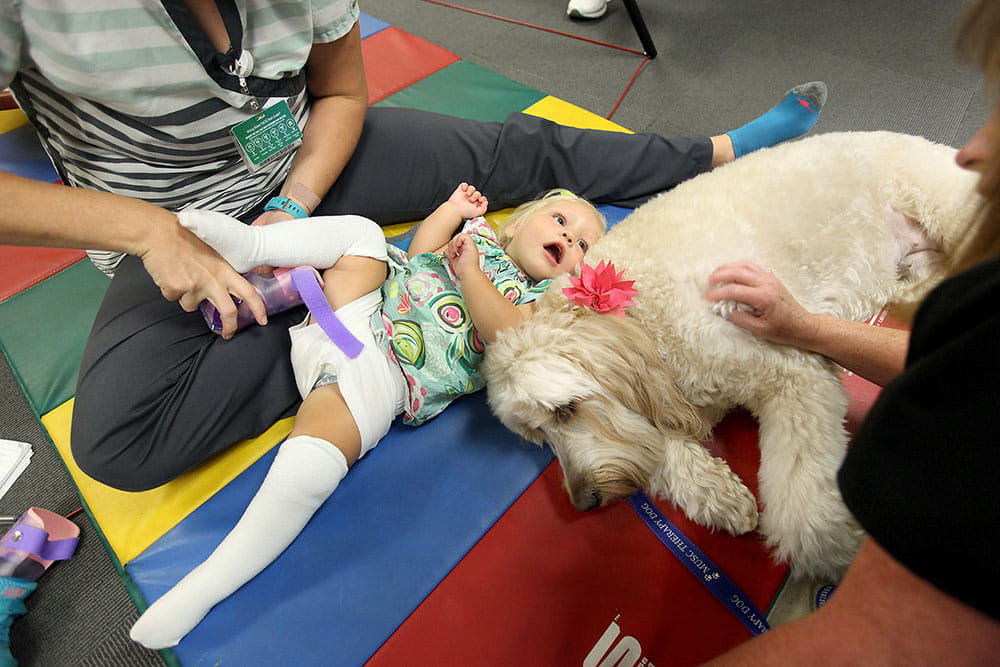 Ellie can make her feelings known only by crying, which she does several times as Pfeiffer coaxes her little limbs into different positions. Older children have said it's physically uncomfortable to make their legs take what should be natural positions, but Ellie allows herself to be placed in a kneeling, then standing position as she buries her face in Macy's fur.  
Hall said the therapists are constantly coming up with new ideas about how to utilize Macy. Sometimes the dog is a promised reward; one boy, she said, made a pact that if he worked really hard for five sessions he could have Macy for an entire session – all 45 minutes – instead of the usual 15 minutes. 
Occupational therapist Ashley Romito, who coordinates the pet therapy teams at the clinic, agreed the dogs can be a powerful tool for motivation. 
"There is a specific patient who was upset in most every therapy session and had a difficult time coming to therapy. With the use of therapy dogs, this child now enjoys coming to therapy and has so much more motivation to complete difficult tasks," she said. 
After Ellie, Macy's next therapy partner is Katie Jenkins. With encouragement from Romito, Katie works the buttons and zippers on Macy's "dressing vest." Then Romito places a variety of clips on Macy's fur and has Katie remove them in a specific order. The task requires Katie to visually scan for and identify the clip of the correct shape and color, then use a pincer grasp to carefully remove and place it onto a laminated sheet next to a picture of the clip. 
It's mentally and physically taxing, and by the end Katie is ready to move on to the grand finale – playing catch. Out in the hallway, Romito tosses a ball to Katie, who must catch it with both hands before she can throw the ball down the hall for Macy to chase. 
Romito said occupational and physical therapists and speech language pathologists have all seen benefits from using the dogs. The possibilities for therapy dogs are limitless, she said. 
"I have seen some really creative treatment sessions tailored specifically to the child's plan of care and personal goals," she said. "As long as the patient feels comfortable with the presence of a dog, pet therapy can be of benefit to anyone's session. The use of therapy dogs has been a wonderful tool for motivation, concentration, and emotional support for each child they encounter."
Making the rounds
In addition to the two teams at the physical therapy center, there are more than 40 teams working on the main campus, said Cathy Bennett, pet therapy program coordinator.
Bennett, who started her position in June, is working to recruit more, though. There's always a call for pet therapy dogs to visit units, and Bennett has added more stops to the dogs' regular tours. This month they begin visiting the special needs dental clinic waiting room. 
In June, select teams began visiting the psych ED. The visits are uplifting for the patients, who may stay in the sequestered unit for up to four days, said charge nurse Anne Goliver. She recalled one young woman who kept asking about her own dog at home. The patient was moved to tears when she got to pet a therapy dog, Goliver said. 
"For the most part, everyone loves the touch," she said. 
The dogs are a calming presence for patients and staff alike, particularly staff like those in the psych ED and the post-anesthesia care unit who don't get much downtime during their shifts. 
"It's good therapy for us," said Taylor Moeller, a registered nurse on the post-anesthesia care unit. 
"It de-stresses us," agreed registered nurse Kelly Boline.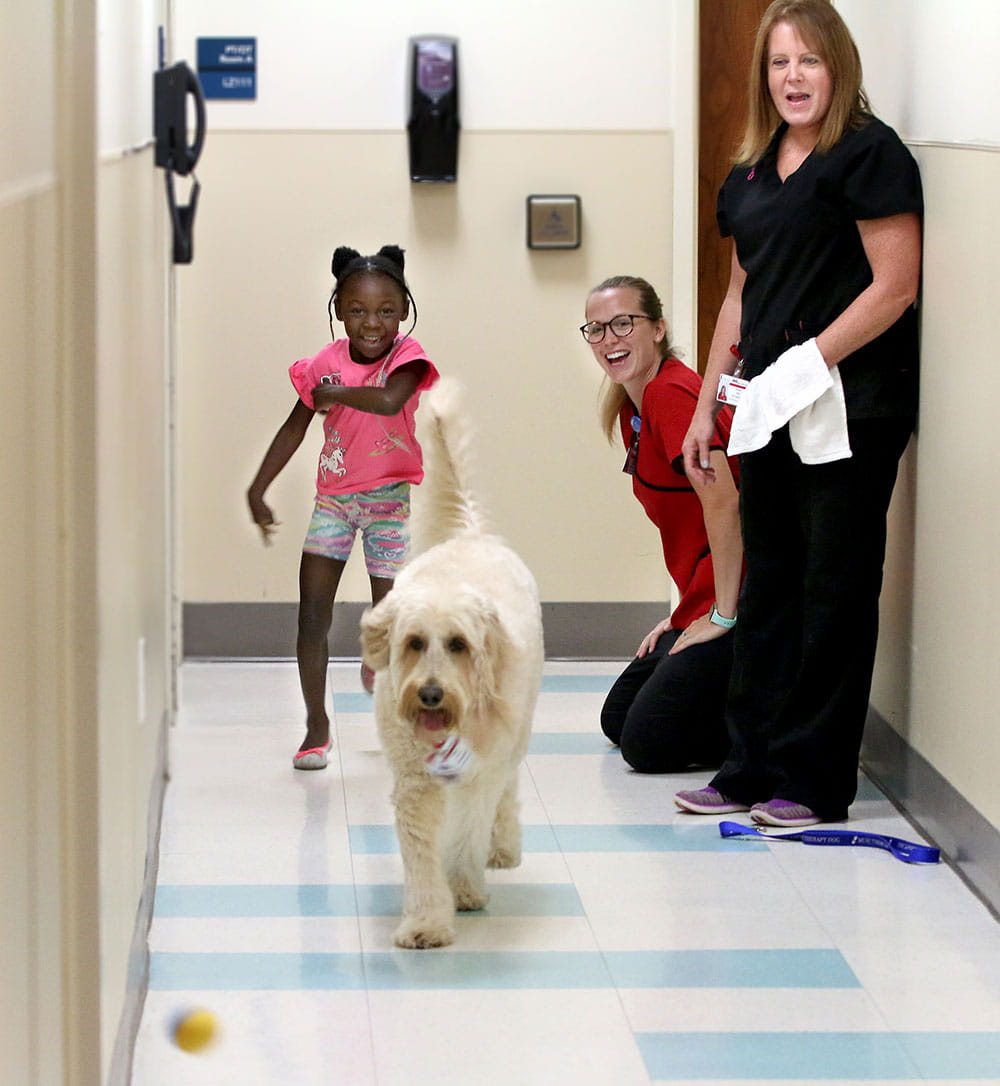 Sometimes the care team might even wait until a dog is available to distract a patient before performing a procedure like inserting an IV.
"Certified therapy dogs not only reduce, stress, depression, and blood pressure, they improve self-esteem, increase physical mobility, provide comfort and eradicate loneliness. Our volunteers are changing what's possible in healthcare through pet therapy," Bennett said. 
The dogs must be certified by a nationally-recognized pet therapy organization before MUSC will consider allowing them to volunteer. The human member of the team must be interviewed, undergo a background check and complete the four-hour volunteer orientation. After orientation, the new volunteer will shadow another pet therapy team to see how everything is done. Bennett will then accompany the new team on a trial run and decide whether dog and handler are ready to go out on their own. 
"It sounds long and daunting, but it needs to be," she said. 
Bob Hardie and his golden retriever Bodie have been volunteering for almost a year now. 
Hardie has owned several golden retrievers, but Bodie's temperament makes him special. When Bodie was going through basic obedience training, the trainer suggested Bodie would make a great pet therapy dog. As it happened, Hardie had just retired, and he had a neighbor who was part of a pet therapy team, so he decided to pursue certification. 
For all dogs in the program, temperament is the most important attribute. Obedience training is important, but there's a certain innate quality within some dogs that makes them well-suited for pet therapy, where they'll interact with people of all ages and in a variety of health conditions.
Bennett, who does rounds with her own two goldendoodles, Jaxson and Harley, in addition to overseeing the program, praised MUSC Health leadership for backing the program and the volunteers for making it successful. 
"The volunteers are exceptional," she said. They exhibit the most selfless spirit she has seen in a large group of people, she said.